Sending From The MailShot App.
To create an email from MailShot- Select the group, then tap "Send Email (To:)" or "Send Email (Bcc:)".
Using "Bcc :" will hide email addresses for privacy. Using "To:" will allow anyone to "Reply All" to the group.
If you wish to view the group before you send, tap the address line of the email. You can also add or remove people there before sending.
To send to several groups at once: tap "Multi",  select your groups, then tap "Send".
TIP: Sent emails are accessible from the "Sent" folder of the Mail app. If you cancel and "Save to Drafts", they will be accessible from the "Drafts" folder of the Mail app.
Add a Photo
You can add photos and attachments to an email, just as you would in the iOS Mail app:
Tap where you wish to add the photo, then release. Select "Insert photo or video" from the black pop-up menu. Or tap the shortcut button above the keyboard on iPad.
TIP You can also share multiple photos directly from Photos. See below.
Add a Document
To add documents from an iCloud drive, Dropbox and others, tap the right arrow again, and select "Add Attachment".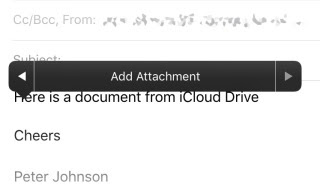 Sharing Documents From Other Apps



You can share files directly to a MailShot group using this button or, in some cases, a button marked "Share".
This "Share Extension" can be used to share photos, documents, contacts, map locations, weblinks and many more items directly to your group. 
Use the switch to select whether you want to send in Bcc: or To:, then choose a group.
To share to several groups at once, tap "Multi".
TIP: If you cannot see a MailShot icon in the top row, scroll to the right, and tap "More" . You can also change the order which your extensions appear in, for faster access.
NOTE: If a file is not sharing as expected, try sharing to Mail and see if that works. If so, please let us know from the Support button in the app.
Forward An Email
MailShot is one of very few iOS apps that will allow you to forward email to a group…
Select a group in the MailShot app

Tap "Copy to Clipboard"

Switch to the Mail app

Paste this group into the address line of your forwarded email. (Tap and hold, then select "Paste")
Multitasking alongside other apps 
(Requires iOS 9 – 10, and iPad Air or Mini 3 or newer )
Swipe from the righthand edge of the screen to show the multitasking window, then swipe down from the top of the screen to change the selected app.
For iOS 11, see this Apple article
This allows you to address your email very easily by popping up Mailshot, selecting a group and copying it to the clipboard, then pasting it to the address line in Mail.
This video shows iPad multitasking in action in iOS10.
On to 6. The Settings page